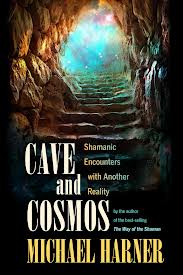 In this and the prior post the comparison of cinema and shamanism is not meant to arrive at a precise one-to-one correspondence. Neither experience is reducible in meaning or import to the other. Rather, I am comparing shamanism to cinema analogically so that something known and well elucidated helps us understand something else which is less well known. The world of shamanism as detailed in the books referenced here is brought to bear on the mysterious power of cinema to fascinate us through image and narrative.
In Cave and Cosmos: Shamanic Encounters with Another Reality Michael Harner outlines the Upper World of the shamanic cosmos in ways that prove quite revealing when applied to certain films. For example, Harner relates that with the aid of steady drumming, or auditory driving, shamanic practitioners often depart for the Upper World from a raised platform located in the Middle World. Ascending through clouds into the sky or sometimes flying along what is called the trail of heaven, practitioners often are accompanied by a bird such as an eagle or themselves transform into a bird or man-bird deity. Such magical flight and transformation brings feelings of out-of-body levitation, love, beauty, and ecstatic spiritual union.
During the journey shamanic practitioners also often hear celestial music such as heavenly choirs, and they meet famous figures from history and religious tradition. From such figures they learn answers to hitherto unanswered questions. Finally, the advice or wisdom gained from such answers helps move them and others further down the path of spiritual, psychological, and physical healing once they have returned to the Middle World.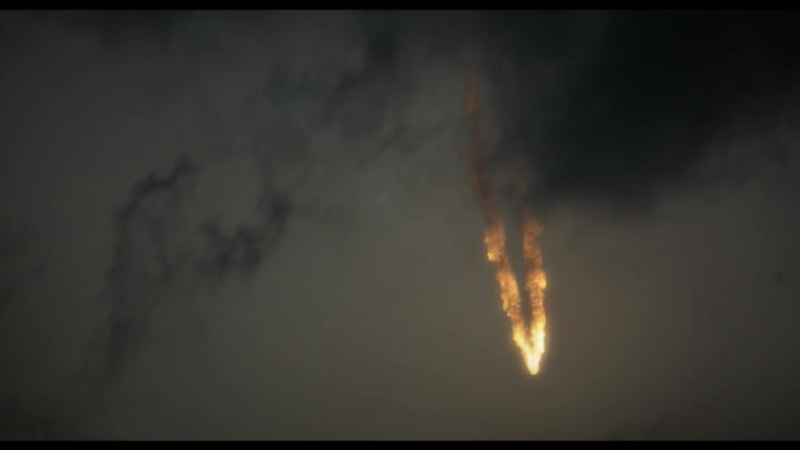 The opening images of Alejandro González Iñárritu's Oscar-winning film Birdman or (The Unexpected Virtue of Ignorance) alert viewers that they are about to accompany protagonist Riggan Thomson (Michael Keaton) on a cine-shamanic journey. That is to say, as the film's title sequence begins so does a steady drumbeat. Then a strand of ominous music briefly joins the drums, and the first visual image of the film, a bright light shooting across a darkened sky, fills the screen. A comet, Icarus falling to his fiery death, or perhaps Birdman himself, the light (pictured above) also resembles an apocalyptic trail arcing down out of heaven.
This image gives way to one of Riggan alone in his dressing room on an upper floor of a Broadway theater. Legs crossed in front of him, Riggan levitates a couple feet off the ground. He meditates on the question that comprises the first spoken lines of the film: "How did we end up here? This place is horrible. We don't belong in this s—thole."
Virtually every scene in the film provides the answer to the question just posed. It is "that little prick called ego"—to quote Iñárritu in accepting the Oscar for Best Director. Or, as I noted in my earlier post on Birdman it is inflation, arrogance, grandiosity, and a sense of entitlement. On a collective level it is what Jung called the spirit of this time. No wonder that when I left the theater after seeing the film the phrase from Wordsworth "the world is too much with us" popped into my head.
The solution or cure to the "too much-ness" of ego and world is found in another exquisite and much lauded film of the past year: Richard Linklater's Boyhood. Like Birdman, Boyhood also begins with an image of the sky and as such signals that we are about to take a journey into the Upper World of cinema. We are about to encounter teachers and wisdom figures—some of whom through their behavior instruct us how not to lead our lives. In the case of Boyhood, the second and third husbands of Olivia (Patricia Arquette) come to mind in this regard.
Love, beauty, and ecstatic spiritual union are also evident in Boyhood, perhaps most noticeably in the film's concluding scene. I look more closely at the wisdom contained in this scene and in the film in its entirety in a future post. For the moment, however, what is important to note is this: whereas the cine-shamanic journeyer returns from the Lower World of cinema better able to meet the demands of his or her material existence, the journeyer to cinema's Upper World having received an answer to one or more of life's hitherto unanswered questions returns ready to face his or her spiritual existence.
In the context of the two films discussed, if Birdman asks and answers "How did we get here?" the question at the heart of Boyhood is "Where do we go next?" The presence of "we" in both questions reveals a final tantalizing possibility. The lessons learned or wisdom imparted in cinema's Upper World have collective implications not found in the Lower World's emphasis on individual adaptation and empowerment.